Leveraging Direct Mail to Market Your Giving Days and End of Year Appeals
When it comes to fundraising, the term "annual giving" is assigned to any gift amount that isn't considered a major gift. Depending on who you ask, the term itself has different meanings:
To a donor, "annual" could be that one-time gift that is sent in every year.
To the non-profit, "annual" is a year-long plan comprised of targeted solicitations using multiple channels (direct mail, phone, email, social media).
The wish list for every non-profit is to have every donor in their database renew their annual gift – even better if they respond to multiple appeals throughout the year – and (re)acquire a percentage of new and lapsed donors.
While most appeals are slow burns that take place over months, there are three specific one-day events that many non-profits prioritize in some way as a part of their fundraising efforts: a giving day, Giving Tuesday and December 31.
Because these events run on a much more condensed timeline, email and social media are usually the primary method of marketing and communication. As these events evolve, there may be reason to consider adding a direct mail component to your efforts.
Giving Days
Giving Days have become a significant fundraising source for a non-profit. Donors are asked to make a gift within a (usually) 24-hour window of time where there can often be a match component or other marketing theme to drive giving. Because of the immediacy of having the gifts processed that day, the vast majority of gifts are made online with a few exceptions for that unplanned large gift.
The amount of time, effort and planning that goes into a one-day marketing blitz almost make them into a Black Friday event of sorts. Depending on the size of the school and donor base, these one-day events can bring in anywhere from tens of thousands to tens of millions of dollars in a 24-hour period.
For many non-profits, the number of gifts and amount of dollars coming in is dependent on the culture that has been developed, how well it is marketed and the type of perks that accompany this gift. It's safe to say that no two giving days are ever alike, even year-to-year within the same organization.
Much like Black Friday, giving days need to evolve. Here are a couple of idea that a non-profit looking to boost their ROI could consider:
Black Friday used to start the day after Thanksgiving as the sun was rising. Then, it was before sunrise. Suddenly, it started at midnight. In following years, it began sometime after Thanksgiving dinner. Now it seems like it's a week long. All done to maximize a company's profits that sometimes rely on Black Friday to reach their annual goals in sales.
Some organizations have stretched their giving days in the same way. Sometimes it's done to build hype for the actual day, other times it provides time for gifts to come in early so they can be recorded and counted towards their giving day totals.
Before the internet, Black Friday ads were included in the Thursday newspaper on Thanksgiving. Part of the holiday tradition was for families to look through every store ad to strategize a shopping plan.
As Black Friday extended to start earlier in the week, printed advertisements were sometimes mailed as separate pieces. Television commercials become more frequent. Digital ads seem to be everywhere. Our inboxes likely see an increased volume of emails during this time as well.
With so many digital ads, it can be hard to get noticed or get clicks. If your giving day has plateaued, diversifying your marketing strategy may be the place to start. Direct mail has the ability to extend the reach of your event by putting your brand in front of people who might not find them on a screen.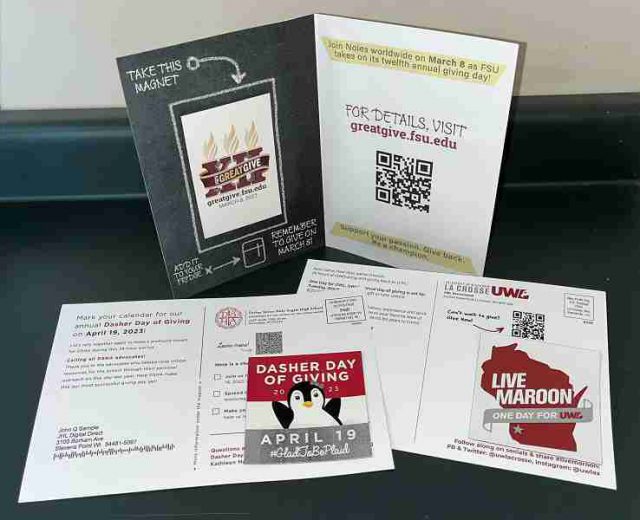 In the last 18 months, JHL has worked on two projects (University of Wisconsin-La Crosse and Divine Saviors Holy Angels High School) where a postcard was mailed out in advance of the giving day with a branded magnet affixed to it. A third project was done for the Florida State University Foundation with a magnet affixed to the inside of a self-mailer.
While a postcard doesn't include a reply mechanism to mail back, a QR code (and a URL) linked to your giving page provides a gateway for an online gift. In each of the cases listed above, it was something simple to send out where the donors could place a branded magnet in a location to act as a reminder to give when the day arrived.
Giving Tuesday and End of Year Giving
Created in 2012, GivingTuesday is a "global generosity movement unleashing the power of radical generosity." The idea spawned after the inclusion of Small Business Saturday and Cyber Monday which provided three days of shopping (longer now that Black Friday extends to the beginning of the week).
In an article by Vox.com, the idea started with a hashtag, marketing advance and resources. The logo was never copyrighted so it could be used by any non-profit utilizing their own colors and content.
In 2021, $2.7 billion was raised worldwide on that day alone. Compared to the $10 million raised in its first year, you could say the idea has gained quite a bit of traction.
On its own, a direct mail piece might not be the best way to promote Giving Tuesday, unless your giving day is on the same day. Likewise, end of year communication has migrated almost exclusively to electronic media because of its "last chance" messaging. Planning out a mailing list and design weeks in advance could seem dated by the time it arrives to a donor who already fulfilled their gift.
Knowing that a direct mail campaign uses a larger window of time to produce, mail, respond and process, you could leverage the brand recognition of Giving Tuesday to act as a kick-off for an end of year campaign that entails the final month of the calendar year.
Your mail piece could be segmented both in messaging…and in format.
Based on donor types (LYBUNTS, Lapsed, New Donors), you could cater the messaging to recognize their giving history.
For those with existing pledges, your messaging can remind the donor to fulfill their promise to give before Dec. 31.
Based on generation breakdown of your audience, you could consider a traditional letter format for a portion of your list, while sending a postcard with a URL and QR code to those most likely to give online.
Trying to land a mail piece in mailboxes on a precise date is near impossible to plan for. You are still at the mercy of the US Postal Service which would be approaching its busiest time of the year. Targeting a mail piece to reach your audience prior to Thanksgiving can help to ensure the piece isn't delayed as to maximize the time and effectiveness of an end of year campaign.
With the mail piece as your starting point, targeted emails can follow-up over the course of the month using a similar layout and message based on your segment plan.
While it is currently the middle of the summer (when this blog was originally written), annual giving professionals are always thinking and planning months ahead. Most of you should already be discussing what the end of 2023 will hopefully look like. Whatever your plans for these special events entail, JHL is ready to discuss how direct mail can help you cast a wide net to reach current and future donors and maximize the return on your investment.
By Dan Krueger – July 3, 2023